We are authorised stockists for the HOTTERdog range of fleeces and clothing for dogs.
We started to use these coats when my Briar suffered from 'cold tail' when she gets wet and cold and so to protect her after a days' shooting and for keeping her warm during the lunch break when we are picking up, I bought her a coat. I now use them for all our gundogs after a days competing or shooting to dry them off and keep them warm, especially after retrieving from water in the depths of winter.
The garments are water repellent, stylish, warm and cosy. Perfect for general weather protection, winter wear for the aged and fine-coated and drying off the wet dog. The wicking property of the fleece allows for speedy drying of the wet dog after swimming, bathing or exercise in lousy weather.
The HOTTERdog fleece Jumper comes in 5 sizes, chihuahua to rottweiler and in 5 colours: black, red, forest green, grape and royal blue.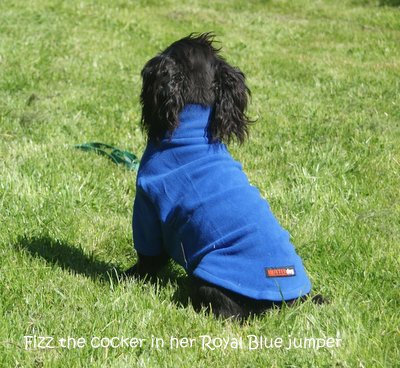 The cost depends on the size you order but an XL jumper is priced at £22 and a XS jumper is £16.40. There is a standard postage and packing cost of £3.40 for first class which is added at the point of sale. For orders to be sent outside the UK, or for orders of three or more jumpers please contact me for postal charges.
Feedback from customers:
Many thanks for the super quick delivery, the jumper arrived this morning and fits my lurcher just fine, she looks a treat in it and it will keep her baldy belly nice and warm. - JB
Have received jumper for merlin. many thanks has kept him dry and warm in the cold mornings. ST
They arrived today, and fit a treat... thank you CS
Jumper arrived today and fits perfectly. Thank you for your super quick despatch. KG
The HOTTERdog fleece Coat comes in 10 sizes, chihuahua to rottweiler (10"/12"/14"/16"/18"/20"/ 22"/24" and 26"), and in 3 colours: black, red, and royal blue. We hold the sizes and colours below but if you want other sizes or colour - please contact me for details.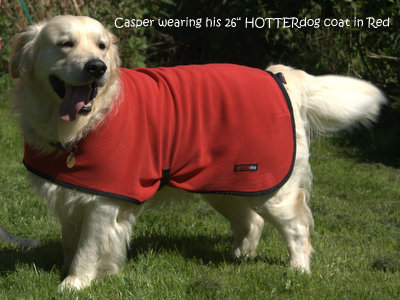 The cost depends on the size you order but a 14" coat would be £16.75 and a 28" one £25.65
The HOTTERdog T shirt comes in a body version or a full suit. Particularly useful for those dogs with rashes or grass allergies or for holding dressing in place, or stopping dogs getting to wounds in places which are difficult to bandage. It also acts as a wrap for anxious or hyper sensitive dogs to calm them. The Full Suit version has helped dogs who have grass allergies by keeping their contact with the grass and pollen to a minimum whilst out on a walk.
They come in black and camo green and in sizes as per the jumper with the S/M T shirt body at £12.45 and the XL at £16.95 and the S Full body suit T shirt at £17.45 and the XL at £20.95.
T Shirt Body

Full Body Suit
Sizing for Jumpers and T shirts
| Collar to Tail | Chest | Neck | Size |
| --- | --- | --- | --- |
| 28–34cm (11–14") | 33–40cm (13–16") | 22–27cm (9–11") | XS |
| 35–44cm (14–18") | 43–52cm (17–20") | 30–35cm (12–14") | S |
| 45–55cm (18–22") | 55–64cm (22–25") | 36–42cm (14–16") | M |
| 56–66cm (22–26") | 67–76cm (26–30") | 43–49cm (17–19") | L |
| 66–76cm (26–30") | 78–87cm (31–34") | 49–55cm (19–22") | XL |
XS - Extra Small
Affenpinscher
Chihuahua
Yorkshire Terrier
Miniature Pinscher
Norfolk Terrier
Norwich Terrier
Papillon
Pekingese
Toy Poodle
S - Small
Bichon Frise
Bedlington Terrier
Border Terrier
Cairn Terrier
Chinese Crested
Cavalier King Charles
Fox Terrier
Italian Greyhound
Jack Russell
Lakeland Terrier
Lhasa Apso
Miniature Poodle
Miniature Schnauzer
Pomeranian
Shih Tzu
M - Medium
Basenji
Beagle
Border Collie - Small
Cocker Spaniel
English Bull Terrier
Springer Spaniel
Staffordshire Bull Terrier
Tibetan Terrier
Vizsla - small
Whippet
L - Large
Airedale Terrier
Afghan Hound
Border Collie
Boxer
Dalmation
Greyhound
Labrador - small
Lurcher
Pointer
Poodle
Saluki
Schnauzer
Setter
Springer Spaniel - Large
Vizsla
XL - Extra Large
Doberman Pinscher
German Shepherd
Large Labrador
Large Dalmation
Retriever
Rhodesian Ridgeback
Rottweiler
Weimaraner